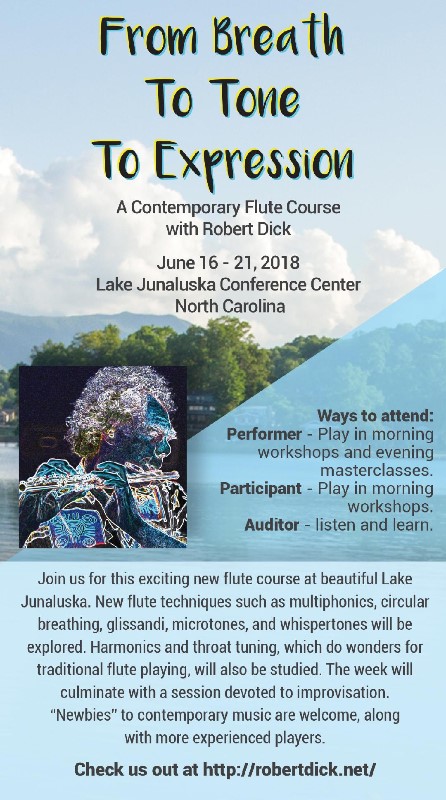 Come join us for a masterclass with Robert Dick on contemporary flute techniques in beautiful
Lake Junaluska, North Carolina. After an opening concert on the evening of June 16, the next
four days will consist of morning workshops which explore techniques used in contemporary
music, and evening masterclasses where individual performers explore works from the new
music repertoire.
There is a place for all persuasions of flutists on this new, exciting course. New music
aficionados may attend as performers and play in the evening masterclasses, receiving one to
one instruction from Robert Dick. Flutists who are not versed in extended techniques will
benefit from the morning workshops, where they can become familiar with these new ways to
play the flute. "Newbies" are welcome as participants. Anyone who just wants to listen and learn
but not participate may register as an auditor.
The last session on the morning of June 21 will be devoted to improvisation.
Lake Junaluska is in Haywood County in Western North Carolina. The Conference Center is
built around a lovely man-made lake and has recreational opportunities such as swimming,
kayaking, hiking, and golf. It is is the middle of the gorgeous mountains near the Blue Ridge
Parkway, 30 miles west of Asheville, 5 miles north of Waynesville, and 30 miles east of the
Cherokee Indian Reservation. Tourist attractions, craft breweries, and shopping abound.
COURSE DESCRIPTION
From Breath to Tone to Expression
A Contemporary Flute Course with Robert Dick
June 16 – 21, 2018
Lake Junaluska Conference Center North Carolina
All events to be held in the Kern Center Saturday, 
June 16: 8:00 PM – Solo Recital by Robert Dick
Sunday, June 17: 9:30 AM – Production and Extended Techniques
Workshop: An explanation of the acoustics of the flute and the flute/flutist resonance system, particularly "throat tuning". Practical application of this knowledge in tone production, dynamic and timbre range. Discussion of the inter-relation of traditional and extended techniques. Explanation of multiphonics, circular breathing, glissandi, microtones, whispertones, etc. Presentation of methods to learn and practice these sonorities and techniques.
Sunday, June 17: 7:30 PM
Masterclass: Exercises and practice techniques for extended techniques. Throat tuning, harmonics, whispertones, circular breathing.
Repertoire: "Flying Lessons: Six Contemporary Concert Etudes, Volume 1" by Robert Dick
Monday, June 18: 9:30 AM – Production and Extended Techniques Continued
Workshop: How to practice both traditional repertoire and new music by incorporating harmonics and throat tuning. Further exploration of multiphonics — triple and quadruple tones and "special case" multiphonics — very small intervals and very large intervals. Circular breathing continued. Discussion about practice after students have had a day to start work.
Monday, June 18: 7:30 PM
Masterclass: "Flying Lessons" and other post-1960 repertoire chosen by student performers
Tuesday, June 19: 9:30 AM – 20th Century Gems
Workshop: We'll be diving in to how to use everything we've done to this point when working on classical repertoire. Throat tuning, harmonics will work wonders with our flute playing, and Robert will show how to identify what the music means to you, and how to express it! In the 20th century, the flute has recaptured the major musical role it lost in the 19th century, that of being considered a primary vehicle for soloistic expression by major composers. The relationship of the Western flute and its traditions to other world flutes and flute traditions will also be explored.
Tuesday, June 19: 7:30 PM
Master Class: Varèse: Density 21.5, Berio: Sequenza, Fukushima: Mei
Wednesday, June 20: 9:30 PM – Music by Robert Dick
Workshop: The underlying aesthetics and influences of this music will be explored, with autobiographical insights. Discussion of the emotional point of view and formal aspects of the works. Also time devoted to new possibilities for the alto, bass flute and piccolo, and information on new types of flutes that are being developed. An introduction to the improvisational aspect of Dick's music will also be made, and some preliminary exercises introduced in anticipation of the improvisation day.
Wednesday, June 20: 7:30 PM
Masterclass repertoire: Mr. Dick's compositions for solo flute "Afterlight", "Lookout", "OR", "Flames Must Not Encircle Sides", "Flying Lessons, Volumes 1 and 2", and Paganini/Dick "Caprices in e minor and b minor"
Thursday, June 21: 10:00 AM
Improvisation can be a total mystery for the classically trained flutist, Many flutists would like to improvise, but do not know where to start. Robert Dick will offer a range of possible beginnings and developments. These exercises will give the classically trained musician real understanding of the state of mind for improvisation and skills in building musical structures. The exercises will be for individual players, small groups and for the entire class as a whole. We will also work on some simple harmonic materials and basic forms such as modes over drones and the eight and twelve bar Blues. In the improvisation day, we will put everything covered in the five day class to use and our goal is to open doors to individual creativity.
DAILY SCHEDULE
Saturday, June 16
4:00 PM Check in at the Bethea Center
5:30 – 7:00 PM Dinner
8:00 PM Solo recital by Robert Dick
Sunday, June 17 – Wednesday, June 20
7:30 – 8:30 AM Breakfast
9:30 AM – 12:00 PM Morning Workshops
12:00 – 1:30 PM Lunch
1:30 – 5:30 PM Free time
5:30 – 7:00 PM Dinner
7:30 – 10:00 PM Evening masterclasses
Thursday, June 21
7:30 – 8:30 AM Breakfast
9:00 AM Room Checkout
10:00 AM – 1:00 PM Improvisation workshop
COST
Tuition:
Performer: play in workshops and masterclasses $485
Participant: play in workshops $435
Auditor: listen and learn $385
Accommodation:
Apartment with kitchenette ( 5 nights)
Double Occupancy $270
Single Occupancy $460
Food:
Breakfast, Lunch, Dinner plan (14 meals) $195
Lunch and Dinner (9 meals) $152
Daily visitor: first session free, each session after $45
TRAVELING HERE
By Car:
Lake Junaluska is close to the I-40. If coming from the West, take Exit 20 to the right on Hwy
276. Travel approximately 5 miles to a T junction where the 276 turns left. Follow the 276 for
another two miles and when it turns right, stay straight onto Hwy 19. Take a left into the Main
Entrance to Lake Junaluska in about 1/4 a mile. Park in the parking lot at the Bethea Center
where you will register.
If coming from the East on I-40 take the Smokey Mountain Expressway (Exit 27). Exit on
Cherokee – Maggie Valley Exit 103. (DO NOT take Exit 104 marked "Lake Junaluska.") Lake
Junaluska will be on the right. Do not go in the North Entrance but continue on until the Main
Entrance on your right. Park at the Bethea Center where you will register.
If approaching from the South on Hwy 441, just past Dillsboro turn right onto the Smokey
Mountain Expressway towards Waynesville. Exit the Smokey Mountain Expressway at 102B
which will put you on Hwy 276 going north. Travel approximately 2 miles until you reach Hwy 19.
Turn right and the Main Entrance to Lake Junaluska will be about 1/4 mile on your left. Park at
the Bethea Center where you will register.
By plane:
Asheville, NC is the nearest airport. We will arrange transportation from the airport to Lake
Junaluska at a reasonable cost. Fares into Asheville tend to be expensive and you might find it
more cost effective to fly into another airport and rent a car. Nearby airports are: Knoxville, TN
(100 miles), Greenville, SC (75 miles), Charlotte, NC (150 miles.)
REGISTER NOW – SPACE IS LIMITED
Register Easily by completing the following form or download and email this Registration Form.
Please send this application with a deposit of $100 to Anna Thibeault. The check should
be made out to "Anna Thibeault" with "Robert Dick Masterclass" in the memo line. $50 is
refundable until May 10, 2018
Mailing address:
Robert Dick Masterclass
Anna Thibeault
55 Diane Lane
Maggie Valley, NC 28751